Dogs love their human friends. And as we have seen so many times before, these canines also love to be treated like little kids. You have probably seen dogs, even huge ones, trying to sit on their owner's lap and demanding undivided attention towards them. However, the dog in this clip has a different way of demanding attention. Wait till you see what he does!
Buddy, the Staffordshire bull terrier loves getting belly rubs. You have probably seen one of his videos before. Whenever his owner stops giving him a belly rub, he paws and prods at the man requesting him to continue with it. This adorable pooch is finally getting a chance to live in a loving forever home after his rescue, and his owner just can't deny him, can he?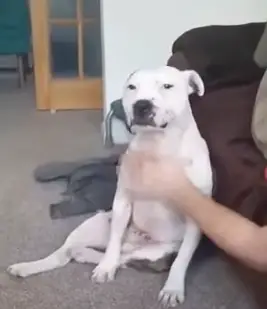 Watch this adorable video below! Isn't he cute? Does this happen with your dog as well? Let us know your thoughts in the comments!
Don't forget to SHARE this adorable video with your families and friends!!