Here's a great animal friendship video that is sure to give you an overload of daily cuteness. British Shorthair kittens are supercute all by themselves, but this video showing one taking a nap with a tiny chick is over the top!
This video actually hit the internet a couple of years ago but has recently resurfaced because, well, no one ever gets too much cuteness. It was posted on Teddy Kittens, a YouTube channel with nearly two million subscribers.
Interestingly enough, British Shorthair cats were once known and the "British Blue" and were exclusively bred for blue-gray coloring. As this little darling below shows, however, they now come in a variety of colors but still have the slightly rounded profile.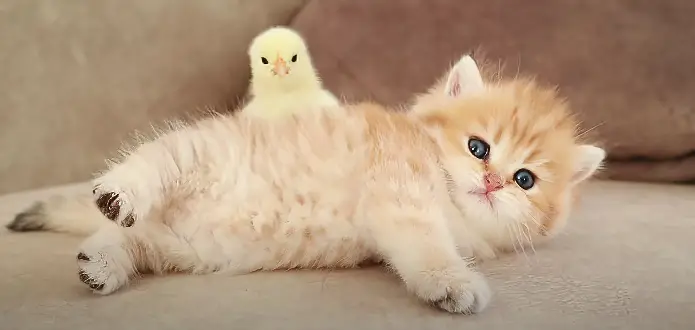 These cats are not big on cuddling, preferring not to be in your lap, but that doesn't mean they're not loving. Just take a look at this little kitten–he clearly loves his friend the chick and wants nothing more than to cuddle up with him.
This is one of the most wholesome things you will ever find on the internet. Watch the full video below and please leave us a Facebook comment to let us know what you thought!
Please SHARE with your friends and family!