Here's a great music-and-dance video that might be a good impromptu street performance or it might be a set-up, staged from the beginning. But as you watch the video, I hope you'll decided (like I did) that it's a fun performance either way.
Brendan Kavanagh is a street performer who plays the piano, most of the time in a London train station where he has a permanent piano in place. In this video, as he walks up to the piano, there is a blonde woman with a backpack leaning against it.
Once he starts playing, she obviously loves the music and begins dancing. Soon there's a crowd and she entices some others to dance along with her. It's a fun scene that you won't want to miss.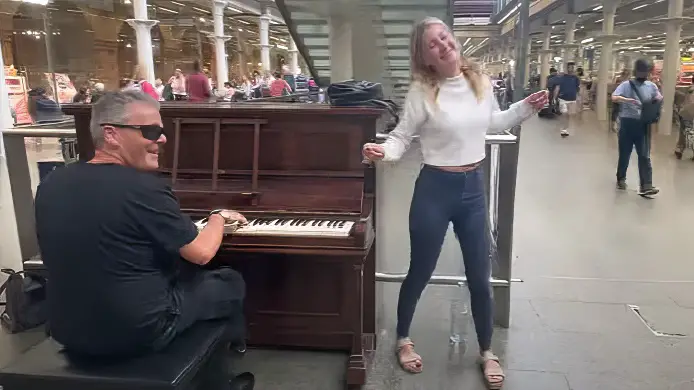 There's some question here, and it's a legitimate concern, on whether or not this entire routine is a set-up: is this girl really waiting on the Paris train to arrive, or is she a plant–some sort of pro dancer who's there to generate internet views?
My take on the whole thing is: who cares? She's a good dancer, he's a great piano player, and it's all enjoyable to watch. It would be great to think it's all off the cuff, but it doesn't have to be impromptu to be incredible. Watch the full video below and please leave us a Facebook comment to let us know what you thought!
Don't forget to hit the SHARE BUTTON to share this video on Facebook with your friends and family.