Singer-songwriter Billy Joel rose to fame in the 60s with his first major hit, "Piano Man". Decades after, he continues to be active in the industry. In one of his concerts at the Madison Square Garden in New York City, he performed his greatest hits and was joined by his 32-year old daughter Alexa Ray. Alexa is his daughter with ex-wife Christie Brinkley, and the two sang "Have Yourself A Merry Little Christmas". And the concert became a true family affair after the Piano Man's 3-year old daughter with current wife Alexis Roderick joined him as well.
Although it wasn't planned, the 3-year old named Della Rose is surely a show-stealer! Billy Joel was introducing the rest of his band when he suddenly turned and saw his daughter up in the stage. Somehow, she got away from her mother and past the security. He smiled and gestured for her to come closer, which she willingly obliged to. Everyone in the audience laughed as she jumped closer to her father in the stage in her adorable pink pajamas printed with Mrs. Claus printed in front. Della Rose looked natural on stage; she did not show any signs of stage fright!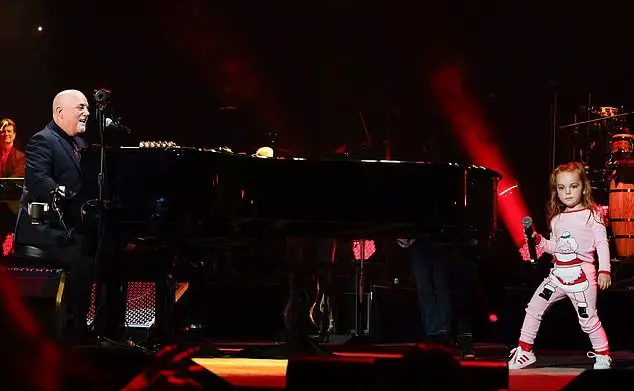 After Billy Joel introduced her, he handed her a microphone. The band started playing "Don't Ask Me Why" and he tried to get the 3-year old to sing with him. Apparently, she's not ready yet so instead, she showed the audience her rhythm by moving her feet to the beat.
After the song, she promptly returned the microphone to her father as he declared the performance as Della Rose's "showbiz debut".  Before she left the stage, she even took a bow and the crowd went crazy! Watch the full video below and please leave us a Facebook comment to let us know what you thought!
Don't forget to hit the SHARE BUTTON to share this video on Facebook with your friends and family.