Every teenager dreams of meeting their favorite celebrity! It's only natural to want to meet the person your idolize and look up to the most. However, as reality sets in, their dream also begins to fade. But not for this 13-year-old! Not only did she get to meet her favorite singer, but he surprised her!
Sydney Bourbeau was singing for a fundraiser for the local Humane Society in a Canadian mall. Moreover, she was up on the stage and singing Ed Sheeran's hit song "Thinking Out Loud." But what she didn't know was that the Grammy award-winning British pop star was in the same mall! The singer was with his cousin, Murray Cummings. They heard someone singing the song live and started plotting something!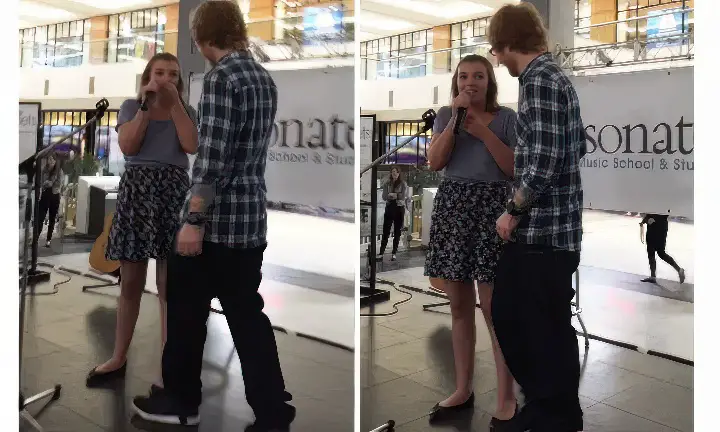 When Cummings asks the singer what he's going to do, Sheeran casually replies, "going to sing a song!" Moreover, he goes straight up the stage towards the teen who gasps and puts her hand in her mouth. At first, she is a little shaken up, but she quickly recovers. And she continues smashing the song as a duet with her idol!
Watch the full video below and please leave us a Facebook comment to let us know what you thought!
Don't forget to hit the SHARE BUTTON to share this video on Facebook with your friends and family.