Andrea Bocelli is an Italian singer and songwriter whose powerful and emotive voice has captivated audiences around the globe. Born in 1958 in Lajatico, Tuscany, Bocelli's journey to becoming one of the world's most renowned classical crossover artists has been nothing short of extraordinary. Despite facing challenges, including partial blindness since childhood, Bocelli's determination and undeniable talent propelled him to international fame.
Known for his breathtaking vocal range and ability to convey deep emotion, Bocelli's music spans a wide range of genres, from classical and opera to pop and contemporary. With his soul-stirring performances and heartfelt interpretations of songs, Bocelli has touched the hearts of millions, earning him numerous awards and accolades throughout his illustrious career.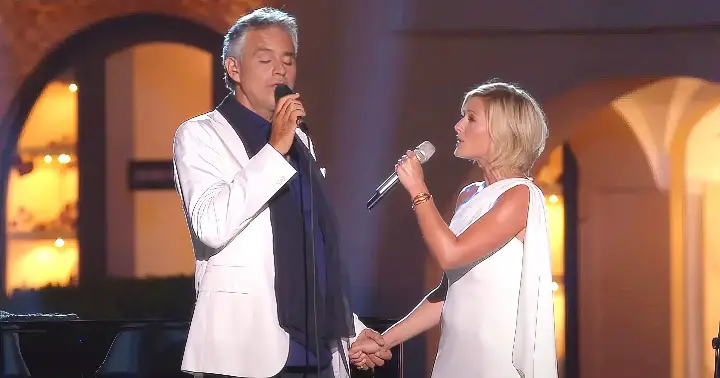 And Helene Fischer is a German singer, songwriter, and entertainer who has gained immense popularity both in her home country and internationally. Born in 1984 in Krasnoyarsk, Russia, Fischer moved to Germany at a young age and quickly rose to prominence in the music industry. Known for her powerful and versatile voice, Fischer has a wide vocal range that allows her to excel in various genres, including pop, schlager, and dance music.
In this fantastic video, Helene and Andrea are accompanied in a masterful duet of the 1956 Nat King Cole classic "When I Fall In Love," in their performance by David Foster and Botti. Their instruments give the song a magnificent touch. And, I must say something like this is bound to make everyone in the room feel good from within. You will love this performance. Watch the video below and please leave us a Facebook comment to let us know what you thought!
Don't forget to hit the SHARE BUTTON to share this video on Facebook with your friends and family.