Lieblingsrezepte has the best dinner recipe for lazy dinner nights. And, you will only need some potatoes and eggs to make this delicious meal.The Ingredients are as follows:
3 potatoes
3 eggs
5 mozzarella cheese slices
Parsley
Olive oil
butter
Salt
black pepper
paprika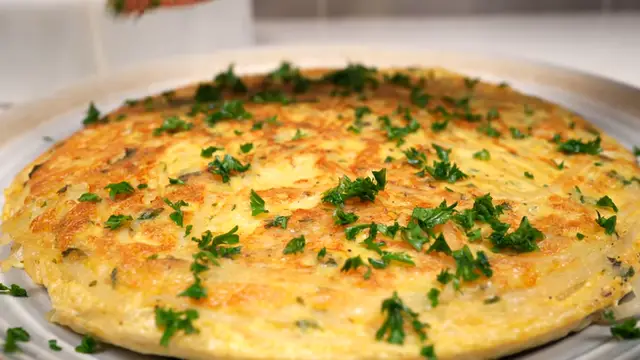 Grate 3 potatoes.
Soak the potatoes into cold water to release their starch.
Finely chop some parsley.
Crack 3 eggs and sprinkle some parsley into a bowl.
Add some black pepper and paprika to the mixture. Whisk properly.
Drain the starch water and separate the potatoes in another bowl.
Mix the potatoes with the egg mixture.
Heat the frying pan. Pour some olive oil and butter into the pan.
Spread the potatoes into the pan.
Add 5 slices of cheese over the potatoes.
Add some more potatoes over the top of the cheese.
Cook for 10 minutes on low to medium heat.
Flip it over and cook for another 10 minutes.
Sprinkle some parsley over the top. Cut them into slices. Enjoy!
If you don't like reading instructions, you can follow the video below!
Please SHARE with your friends and family!