It is nice to watch videos of people bonding and playing with their pets. In this modern world, it is not difficult to find such videos especially on Youtube where a lot of videos of animals doing funny things can be found. That is why Youtube Star Brooke Houts is under fire and investigation for a video she uploaded on her channel where she seems to be abusing her dog.
here we gohttps://t.co/jQsbBRcXQW pic.twitter.com/cZQYQFEs4i

— b (@brookehouts) May 12, 2019
20-year old Brooke Houts, a Youtuber from Los Angeles, California with over 300,000 subscribers had accidentally uploaded the wrong video on her channel on August 5. The most popular videos on her channel are mostly those that features her Doberman, Sphinx. The video was immediately taken down and replaced with the edited version for her "Plastic wrap prank on my Doberman" video.
A Twitter user, Keemstar has uploaded the video on Twitter and has since been circulating the social media with over 46 million views. In the 50-second video, Sphinx can be seen trying to jump on her and getting slapped in the face. In another part of the video, Brooke sat closer to the camera, she pushed Sphinx roughly and pinned him on the floor, then it looked like she spat on the poor dog.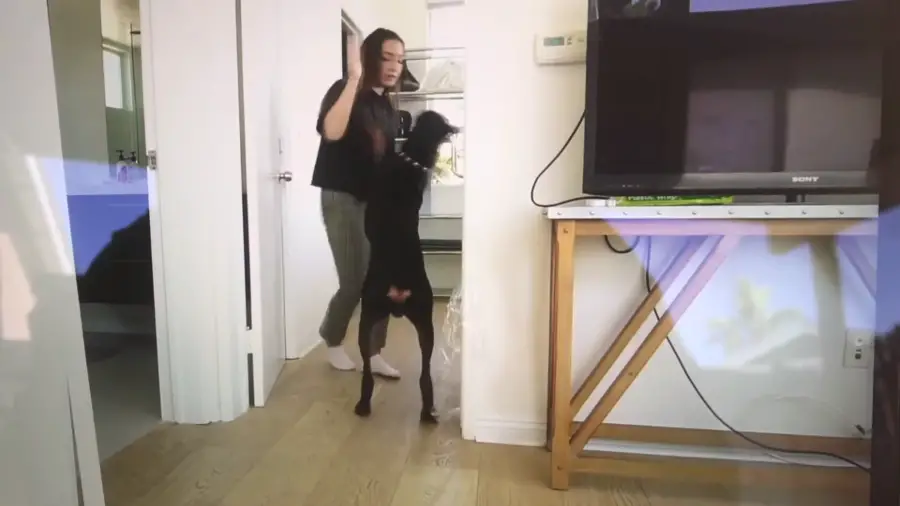 The video caused internet outrage, including demands of her Youtube channel being taken down. Reactions from other Youtube stars like Logan Paul were also posted on Social Media. He described Brooke's video as "remarkably grotesque". While H3H3's Ethan Klein posted about a serious offer on adopting Sphinx.
People are tagging the American Society for the Prevention of Cruelty on Animals (ASPCA) and People for the Ethical Treatment of Animals (PETA). PETA urges different social media platforms to impose policy on zero-tolerance for animal abuse and quickly ban users posting photos and videos of themselves harming their pets or any animals. They also posted their demand to remove Brooke Houts on Youtube.
This is disgusting. @YouTube needs to remove her from the platform NOW! Please join us in speaking out to them. https://t.co/hwzflUrrHy

— PETA (@peta) August 7, 2019
2 days after, Brooke issued an apology on Twitter where she claims that she is not a violent person. She is not a dog or an animal abuser and that her dog was not hurt by her actions. She also mentioned that Sphinx still needs one-on-one training, but she admitted that she shouldn't have reacted that way and promised that she will not respond like that again.
As someone who works with dogs every day; including highly energetic & aggressive dogs, from the bottom of my heart I can honestly say I have never thought of doing any of the disgusting things you did in this short video. From the hatred in your eyes I know you've done worse.

— Lt. Dan's Legs (@Elli_Klosiewski) August 8, 2019
Brooke is now under investigation by the LAPD where they mentioned that their Animal Cruelty Task Force received a lot of complaints regarding the video. They are looking into the situation to identify whether a crime has been committed. During the investigation, Brooke was allowed to keep Sphinx as he isn't in immediate danger.
https://www.instagram.com/p/B0jN9NVAv7x/?utm_source=ig_embed
Do you believe that pet owners should discipline their pets that way? Don't forget to leave your comment and share this post.