Here's a young boy who came dressed up to party and showed everyone his moves could keep up with his clothes. His nice, clean white straw hat and shiny black boots are nothing compared to the way he can shake those hips!
It's probably not the original music, but someone has dubbed the 1993 song "Tootsie Roll" by 69 Boyz into the video because the dancer's rhythm seems perfectly matched to the song. That song stayed on the Billboard Hot 100 charts for 27 weeks and was a huge hit at the time.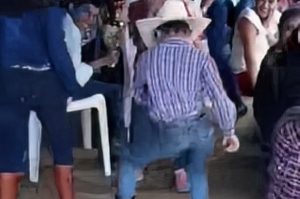 The way the boy dances, it's as if he can hear the song playing in his head. Each time he shakes his hips it's right in time with the beat, making the whole thing a joy to watch. It's clear that the people in the audience love it, too.  Look at those smiles!
Watch the full video below for the kid's moves and please leave us a Facebook comment to let us know what you thought!
Don't forget to hit the SHARE BUTTON to share this video on Facebook with your friends and family.