Three air hostesses were entering the awaiting airline passengers, singing "Boogie Woogie Bugle Boy" by Andrews Sisters. They, see this old man emerging from the crowd and displaying some fancy foot works. This man looks very old but he cannot help himself but have fun when he hears music. This enthusiastic old man has everybody grabbing their cameras!!
This old man who is enjoying himself on the video is a former WWII veteran. Everybody was cheering for more when this energetic old man started to show some awesome moves during a layover at the Ronald Reagan Washington National Airport. This old man who dazzled everyone with his cool moves proved that age is nothing but a number. What a cool guy!!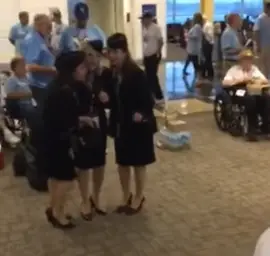 Watch the video! What did you think of this guy's awesome moves? Let us know in the comments!
Please SHARE amazing video with friends and family!