It's estimated that around 300-400 World War II veterans die each day in the United States. But sadly, this number is declining rapidly due to the age of the remaining veterans. According to the US Department of Veterans Affairs, as of the end of 2022, there were only about 167,000 WWII veterans still alive, and their median age is 97 years old. Which is what makes this video so special.
Three air hostesses known as The Ladies of Liberty were entering the awaiting airline passengers, singing "Boogie Woogie Bugle Boy" by Andrews Sisters. The passengers were members of the Kentucky Honor Flight that would take WWII veterans home from a ceremony they had attended at the WWII memorial.
Then, the Ladies see this old man emerging from the crowd and displaying some fancy foot work. This man, Marin Perryman, is over 90 years old–but he cannot help himself but have fun when he hears music from the 1940s. Marin is soon joined by Paul Kopey and it's a regular party on the concourse. These enthusiastic men have everybody grabbing their cameras!!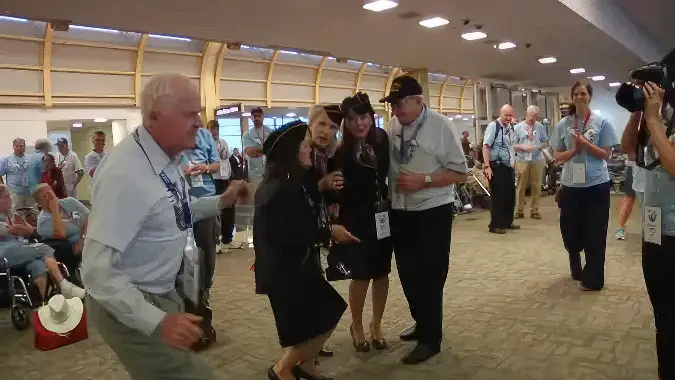 Marin and Paul are both WWII veterans. Everybody was cheering for more when these energetic men showed their awesome moves at the Ronald Reagan Washington National Airport. These two men who dazzled everyone with their cool moves proved that age is nothing but a number.
Enjoy this video now–we don't have too many more left of the Greatest Generation. Watch the full video below and please leave us a Facebook comment to let us know what you thought!
Don't forget to hit the SHARE BUTTON to share this video on Facebook with your friends and family.