I'll be honest: Irish dance and music makes my day. It can even get me motivated enough to lace up my dancing shoes. But where do we find the inspiration? Well, worry not. These two Irish-American brothers have all the techniques for landing on the "right foot" for Irish enthusiasts.
Apart from dominating the social media site with their immensely talented dance performances, the Gardiner Brothers, Michael, and Matthew have found a way to incorporate contemporary dance style with traditional music. Furthermore, the creative siblings even add unusual and exciting props to their routine. Take Shamrock Shakes, for instance. Every year McDonald releases the drink to honor St. Patrick's Day. Recently, the innovative duo added the minty green milkshake in their act.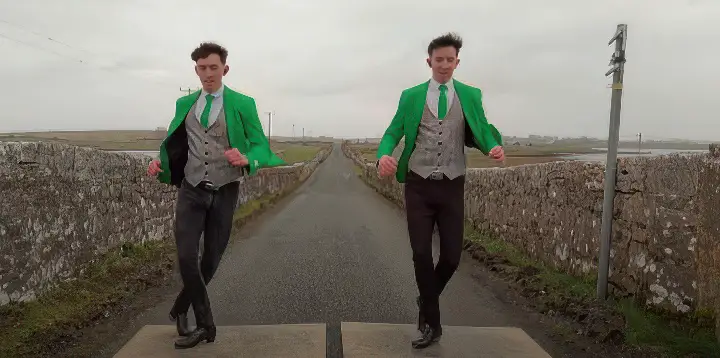 For Michael and Matthew, their family acted as a great influence in their younger days. Mother Marianne is a semi-professional musician in Denver, for their father music was mostly a hobby.  But it was the older sister who helped them flourish gradually says Michael.
The clip below is one of their many creations, dressed neatly in a green suit and tie. Gardiner Brothers execute their talented footwork on a wooden plank to share the impact of tap dancing. Please press play and enjoy this wonderful Irish dance — and please leave us a Facebook comment to let us know what you thought!
Don't forget to hit the SHARE BUTTON to share this video on Facebook with your friends and family.