It seems like many of us have forgotten how a toddler hears music. We connect with the lyrics and sing along or cry or be happy… But for them, it's the music itself that does the trick.
And seeing them enjoy the moment and dance like no one is watching, actually melts our hearts. Their little sways, claps, and laughs are all so precious and pure. A dancer named mirandy54 on YouTube posted this cutest video of their son's dancing.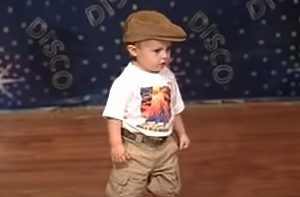 The parent states: "Being a dance teacher, your baby hears the music for each recital several times. It was so cute how Hunter, at only 18 months, would stay super still during the slow part of the song and start "dancing" when the music picked up.
"At our small studio recital we put him on stage and played the music to see what he would do…and he didn't disappoint! He is now almost ten, so he has grown up quite a bit, so we are glad we shared this memory on YouTube for our friends and family to see." Watch the full video below and please leave us a Facebook comment to let us know what you thought!
Don't forget to hit the SHARE BUTTON to share this video on Facebook with your friends and family.