Kindness comes in all shapes and sizes and sometimes it even comes from someone you least expect. This simple act makes a big difference in our society nowadays as we rarely see genuine people with empathy towards others– some just take a blind eye and ignore the fact that there are people who need help all around them. But with this touching story, faith in humanity has been well restored! Here we see that compassion came in the form of a teenager, who did not hesitate to give a helping hand to an old stranger in need.
An elderly woman with no companion, drove herself to go buy a soda at the local Dollar General. Apparently, she had some difficulty in walking as she was caught in a recent accident. Many people were shopping that day, but nobody bothered to help the 81-year-old injured woman. As 17-year-old Griffin Senior, Senquavious Driver was about to leave the store, he suddenly stopped and rushed to the old lady grabbing her by the arm. The teenager couldn't help but notice her as she was trying so hard to enter the store. As soon as he saw the lady, kind Driver did not hesitate and immediately came to her aid.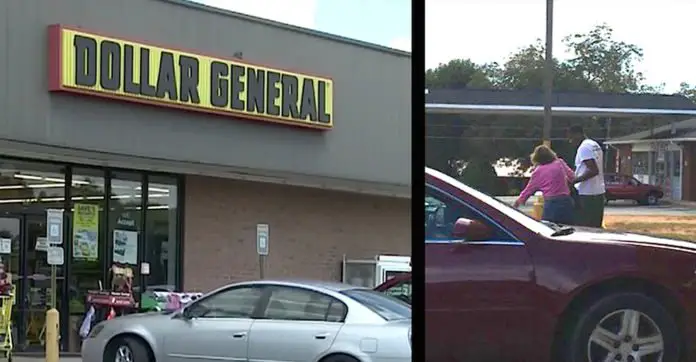 This teenager did not leave the old lady's side throughout the whole encounter. He even helped her buy her soda and assisted her safely back to her car. Driver had no idea the whole thing was caught on cam. His aunt who was waiting for him in the car was actually filming everything. She was touched by the kind gesture his nephew selflessly made. According to her, seeing the old lady's face even brought her to tears as the elderly woman looked so grateful for the teenager– the only person who showed her kindness in a store full of people. Driver's aunt was so proud of his empathetic nephew.
Watch the video below to see how kind this teenager was to the old lady in need of help.
Driver said that he just felt that he needed to help the woman and it was no big deal for him. He was glad he was able to help but was just so disappointed that others walked passed the old lady and paid her no heed.
Driver was given a token of appreciation for the kindness he evidently showed. He is such a blessing to the old lady and possibly to others that he might encounter in the future.
Please share this touching act of kindness to inspire everyone to do good deeds.