Here's a video of a couple performing one of the most difficult dances there is in the middle of the street rather than a ballroom dance floor–and making it look easy.
A crowd gathered on the square in Argentina to watch Mora Godoy and Marcos Ayala perform the Tango to "La Cumparsita" by Orquesta Osvaldo Pugliese. It's a classic song for a classic dance and they are masters at their craft.
The tango originated along the Argentina/Uruguay border in the 1880s. According to Wikipedia, it was "frequently practiced in brothels and bars of ports, where business owners employed bands to entertain their patrons."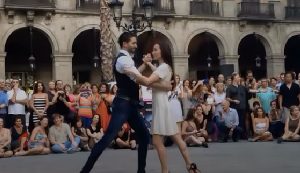 Tango derives from both African and European cultures. It began to spread internationally around 1900, when norms were much more conservative than today and the tango was considered risqué. Its popularity rose and fell over the decades and in 2009, it was added to the UNESCO Intangible Cultural Heritage Lists.
Watch the full video below to see this beautiful, romantic dance masterfully performed by Godoy and Ayala. Leave us a Facebook comment to let us know what you thought!
Please SHARE with your friends and family!