While not all pigs are skilled swimmers, many of them are instinctively able to paddle and move in water. In fact, some pig breeds have been historically known to be excellent swimmers, such as the Vietnamese Pot-bellied pigs and the Marsh Tacky pigs. These breeds have been observed swimming across bodies of water or even enjoying a dip in ponds and lakes.
And here's one named Kamapua whose owner, Kai Holt, says he had no idea that pigs could swim. He was walking by the pool one day when Kamapua, or "Kama" for short, fell in the pool. He swam to the side and Kai realized he had a swimming pig on his hands.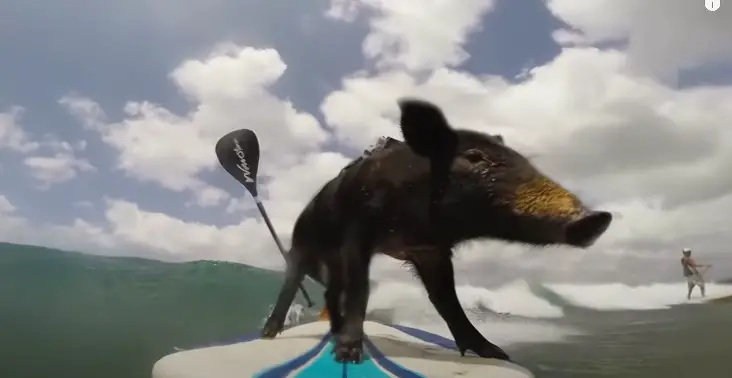 But Kai didn't stop there–he decided to teach Kama to surf too! Each day he brought him out on the surf board to learn the movements of surfing until he became a real surfing pro. check out the story of Kama below, then continue on to see another video of his surfboard antics!
Check out the bonus video below, which shows Kama hitting the waves in high definition. This is truly one talented little pig! Watch the full video below and please leave us a Facebook comment to let us know what you thought!
Don't forget to hit the SHARE BUTTON to share this video on Facebook with your friends and family.