Many animals like to make friends just like humans like to make new friends. Some animals will even befriend a different breed of animal.
There is nothing more wholesome and heartwarming than two kind animals trying to be friends and loving one another. BiBi is a baby monkey who has been trained as a pet, adapted to a near-human lifestyle since she was adopted at a very young age.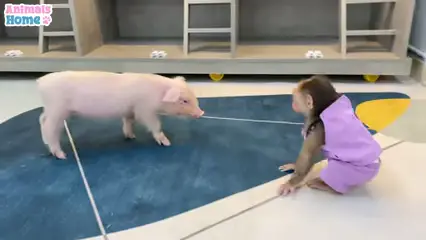 When Bibi meets a piglet, she's surprised at first but quickly decides she wants to be friends. The reaction between the two is adorable. The piglet doesn't seem unbothered at all by the monkey and maybe (because pigs are smart too) its just happy to have a new friend.
Watch the full video below and tell us in the comments if you think this is just too cute!
Please SHARE with your friends and family!