Sarah McKinley was alone with her 3 month old son in their Blanchard home when they had to go through a nightmarish incident. It was New Year's Eve and this 18 year old from Oklahoma had just lost her husband to cancer on Christmas Day. But when two armed men attempted to break into their home, they were in for a very unpleasant surprise.
Sarah's maternal instincts kicked in and she did something unexpected and brave to stop the men who tried to force themselves into her home. The following video shares a chilling 911 call between Sarah and the dispatchers. When the man was able to kick down her door, this shotgun-toting mother killed the intruder after a 911 operator told her, "Do what you have to do to protect your baby."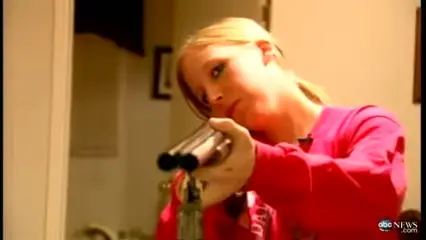 According to the Blanchard police, 24 year old Justin Martin, who charged Sarah with a 12 inch hunting knife, was hit in the upper torso. He was pronounced dead at the scene. His ally, 29 year old Dustin Louis Stewart, fled but later surrendered to authorities. Police justified Sarah's act as self-defense.
Watch this chilling story below and let us know your thoughts about it in the comments section!
Please SHARE this story with your friends and families!