Dwayne "The Rock" Johnson is an American actor and former professional wrestler who rose to fame in the WWE. He started his wrestling career in 1996 and quickly became one of the most popular wrestlers due to his charisma and athleticism. After pursing an acting career, Johnson broke out in Hollywood with roles in films like The Scorpion King, The Rundown, and the Fast and Furious franchise.
Johnson's natural showmanship and work ethic have allowed him to successfully transition from wrestling to acting to become an A-list movie star. But if you follow the news, you'll know he's is one of the kindest celebrities around today.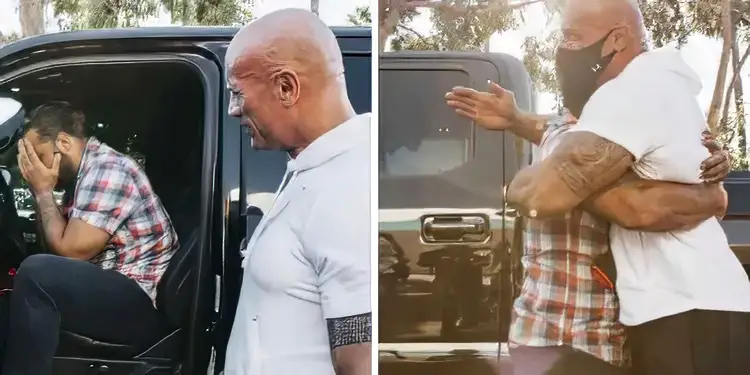 Dwayne Johnson does not do things for his own benefit but also for the good of his fans. This man is a very genuine one. Johnson made the headlines again when he decided to gift a personal custom truck to a fan. The Rock took notice of Oscar Rodriguez who is working as a Navy vet. His hard work felt like it was not getting enough appreciation.
Dwayne immediately contacted Porsche to gift Oscar the car he rode in his Netflix movie Red Notice. However, the company was very hesitant about the decision. Eventually, Dwayne Johnson decided to instead give Oscar his own custom truck as a gesture to thank his fan for the work he does.
The fan was completely surprised. He got so emotional at that moment that he could not even control his happy tears. He surely got the best gift from his icon. Watch the video below and please leave us a Facebook comment to let us know what you thought!
Please SHARE with your friends and family!