Joshua Brown, 11, and his family attended the Fourth of July parade in Arlington like they do every year. To begin the ceremony, the Arlington Police Department's Honor Guard formed a line beside his family. Officer Jerrick Wilson, who was in charge of holding the American flag, noticed his shoe was untied at that point.
A dangling shoelace is inconvenient at best, but for an honor guard to lose one during a Fourth of July parade could spell disaster. Something as minor as a small unraveling can quickly add up to a much larger issue.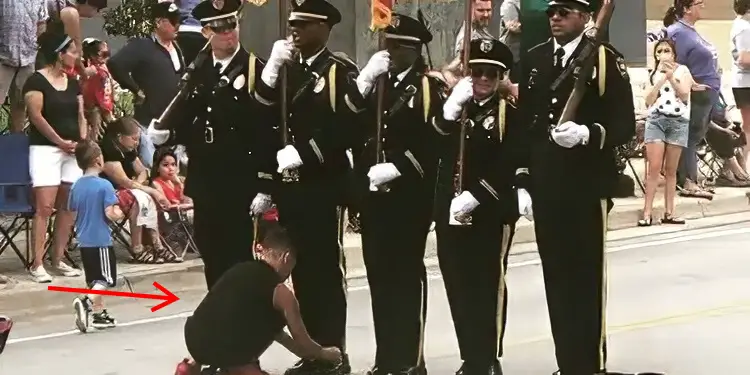 The story of a young child who assisted the Arlington Honor Guard in tying his shoe during the Fourth of July procession is told in this article. Josh hurried over to the honor guard from the sidelines of the procession after noticing the loose shoelace on the honor guard's shoe.
This sense of duty–to help out a military man in need–is admirable in anyone, but especially someone so young. Watch the beautiful video below and please leave us a Facebook comment to let us know what you thought!
Please don't forget to SHARE this beautiful video with your friends and family!