Meet Rhett Barkley. This beautiful Goldendoodle loves his family, and they love him back. It was his birthday recently, and his owners went one step further for his present. The precious pooch got the surprise of a lifetime, and his reaction is just precious!
His owners thought that Rhett needed a playmate, so they decided to get a second dog! Wait till you see how Rhett responds when he spots a Goldendoodle puppy right before his eyes! The new puppy sibling was a welcome addition in Rhett's life. His owners filmed the big reveal, and it is no doubt going to be one of the sweetest things you will ever see!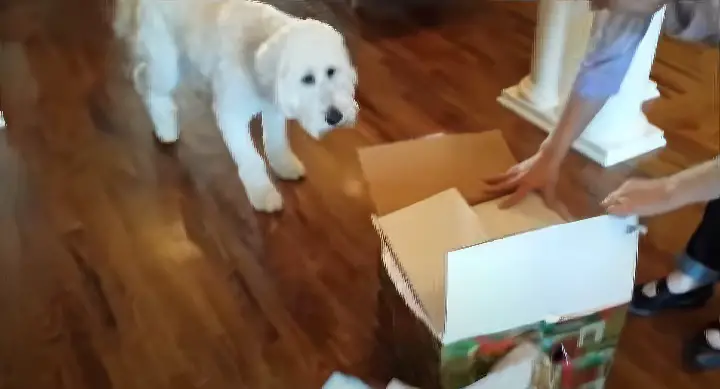 They called the pooch into the room, and it seems by Rhett's excitement that he already knows something amazing is going to happen. When he notices the box across the room, he slowly makes a beeline for it. That's when he finally sees his new sister, Scarlett!
Their mom brings Scarlett out of the box and Rhett inspects her while wagging his tail eagerly. They both don't know what to make of each other, but it wasn't long before they were outside playing on the grass. These two are no doubt going to be the best of buds as time passes! Watch the full video below and please leave us a Facebook comment to let us know what you thought!
Don't forget to hit the SHARE BUTTON to share this adorable video on Facebook with your friends and family.