Dogs are one of the best things in the world. You give them love and support, and they return it back tenfold. People love to spoil their dogs. They give them treats, toys, and some of them even dress them up in cute little outfits. The video below features one of these pampered little puppies. This owner loves his dog, and as this video shows, the dog is also quite enamored with him!
This owner had just brought his pup a new bandana. He put it on the little guy and told him how handsome he looked. But it looks like the pup can't take a compliment! Just look at how he reacts next! I was in hysterics when I saw this! This puppy will steal your heart right out of your chest!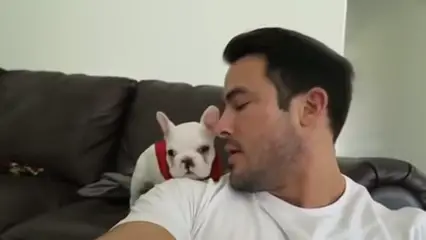 Watch this heart-melting video below! Isn't that pup adorable? Feel free to share what you thought about it in the comments section!
Don't forget to SHARE this cute little clip with your family and friends!!