I love watching animal videos. Every time I come across one on the internet, I go ahead and watch it. It just cheers up my mood considerably! The video below is a really adorable one. You are going to melt when you see this! What can be better than one dog? Six of them! So get ready for your daily dose of cuteness!
This video features six Scottish Terriers who love slurping on goat milk. The Scottish Terrier is a small but strong breed of dog that originated in Scotland. They are known for their wiry coats and sturdy stature, as well as their loyalty and good–natured personalities. Scottish terriers are an independent, intelligent, fun and loyal companion that loves to explore and play, making them an ideal family pet.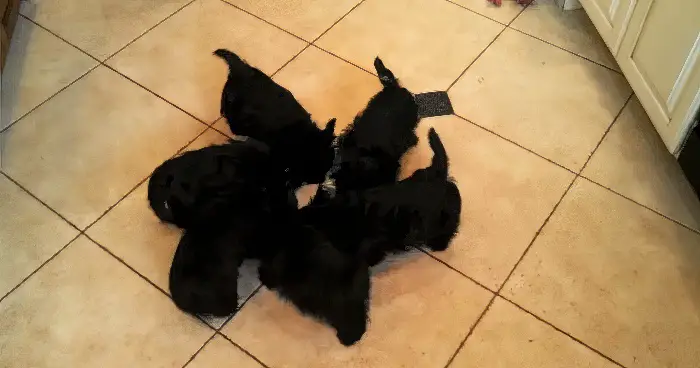 This adorable group consists of Matthew, Mark, Luke, John, Nigel, and Annalise. When mom pours some goat milk in a dish, these tiny furballs gather around and do something really adorable. They wiggle their little tails and spin around the dish like a pin wheel!
Watch the adorable short clip below and please leave us a Facebook comment to let us know what you thought!
Don't forget to hit the SHARE BUTTON to share this video on Facebook with your friends and family.