According to the FBI, there were an estimated 275,000 robberies in the U.S. annually, which translates to an average of around 750 robberies per day. And according to a 2020 report by the market research firm IBISWorld, annual pizza sales data suggest there are about 3.65 million pizzas being delivered each day across the country. But even though the math works out to about 4,900 pizzas being delivered per robbery, I'll bet this is the first time you've ever seen anything like this!
Tyler Morell was just doing his job, delivering a pizza to a customer, when behind him a wild scene unfolds on the street. A car traveling at high speed rounds a corner, hits a pole, nearly flips over and then proceeds down the street directly behind him. Sirens blaring, the cops pursue the car from behind and another cop car pulls in front, forcing the car to stop across the street from Tyler.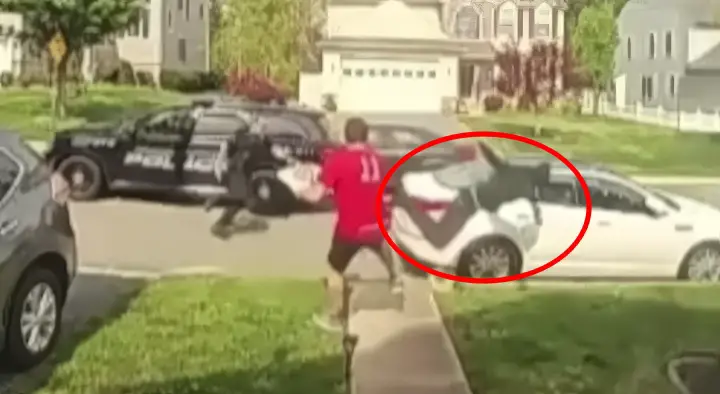 As he walks out into the yard to see what's happening, the suspect abandons the vehicle he was driving and sprints away, directly toward Tyler, with police on foot close behind. Tyler, who's 6'8″ (203cm) and used to play goalie for a rugby team, kicks out at the suspect just as he passing, which sends the suspect flying!
"It's about the coolest thing I've ever done in my life," Tyler said. Plus he didn't eve spill the pizza! Watch the full video below and please leave us a Facebook comment to let us know what you thought!
Don't forget to hit the SHARE BUTTON to share this video on Facebook with your friends and family.