Any form of sport takes a lot of dedication. You need to train hard and you need a lot of determination to succeed. The video below features a gymnastic routine that will leave you in complete shock. This unforgettable uneven bars routine was executed by Paul Hunt in 1981.
This Salt Lake City based coach dropped everyone's jaw when he showed up dressed in his unusual attire. Paul had been teaching gymnastics since 1974, but soon he came found his own genre of physical comedy. He was on tour with triple gold medal winner, Nadia Comăneci, in 1981 at Madison Square Garden, NYC, when he decided to entertain the crowd with his hilarious antics. He came dressed up in a pink unitard with his hair in pigtails. But don't let his looks fool you because he is exceptional in his own right!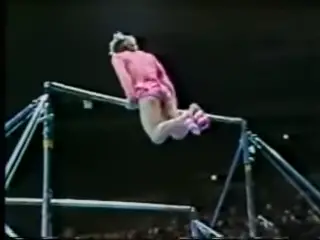 Watch Hunt's funny routine below! Did this crack you up? Don't forget to let us know what you think in the comments!
Please SHARE this hilarious video with your families and friends!