A Russian gymnast immediately captured the attention of the world in 1972 when she did something in Munich that the Olympics had never seen before–standing on the top bar of the uneven bars and performing a back flip, then catching the bar and continuing. Unfortunately, when the Olympics ended, so did the use of her move.
Back when there were only three networks, most Americans watched Olympic coverage whenever it was on. And when tiny gymnast Olga Korbut (less than 100 lbs.) climbed onto the uneven bars and performed, it took the world by storm. Regardless of national pride, everyone realized the Russian had done something amazing.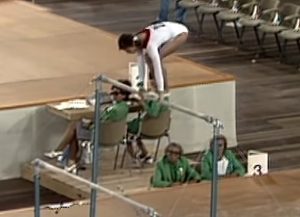 Her signature move, generically called the "dead loop" in gymnastics but immediately dubbed the "Korbut flip" in 1972, had been seen before but never in Olympic competition. It propelled Korbut to first place in the preliminaries and the favorite heading into the finals. Unfortunately, Korbut's finals performance was rife with errors. She won two other golds but only a silver in the uneven bars. And the story doesn't end there…
Shortly after the games, the Olympic governance committee banned the Korbut flip as too dangerous. Which may explain why in the 1976 Olympics in Montreal, Korbut only placed fifth in the uneven bars. Watch the full video below and please leave us a Facebook comment to let us know what you thought!
Don't forget to hit the SHARE BUTTON to share this video on Facebook with your friends and family.