At restaurants, we usually come back because of the satisfaction that we can experience through the delicious food and good service that they provide us with. Some restaurants provide and support discounted dining for veterans as perks, and also as a sign of appreciation for their bravery and service to the country. It's a simple way of saying thank you for all that they have risked and done for the past.
In Arizona, a 97-year-old WWII Veteran named Doug has a favorite restaurant where he has been eating his lunch almost daily for two years straight. Arby's location in Chandler has been serving the old veteran with the same meal order at the same table for as long as they can remember. The staff of this establishment has grown fond of the old man and has even said to have memorized his order by heart. One day the employees decided to have a little sit down with the old veteran while he was having his usual lunch. They asked him questions like why does he favor the same Arby's location so much that he never fails to come every day? The old man's answer came as quite a shocker to them.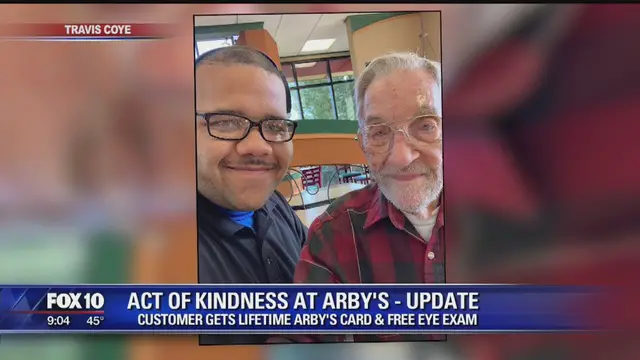 Doug told them that unfortunately, his stomach is quite sensitive that he cannot take any other food aside from Arby's. That's the reason behind his consistent and constant order of the same meal for the past two years. As the employees have grown quite attached to him, they decided to do a little something for Doug as a sign of appreciation. The Arby's location gave him a $200 gift card as they not only treat him as a valued customer but also as a part of their family. The manager though had another surprise waiting for the old man. After receiving the gift card, Doug surely didn't see this one coming. His meals at Arby's location were from now on free of charge!
The old man was so thankful and touched by their kind gesture. Watch the video below to see the surprise.
Please share this heartwarming story with your friends and family