We're unfortunately used to bystanders ignoring things happening around them or being unwilling to step in when needed. Here's a story of the exact opposite.
The video shows a man and woman riding a motorcycle in Myrtle Beach, South Carolina, when a car comes up behind and drives right over their back wheel. Both riders are thrown to the ground and the woman rolls clear but the man, Alex James, is trapped underneath the car.
Within seconds, bystanders run from around the intersection and began working on getting the car off the man. Their reaction wasn't the actions of a single group, it was the collected actions of 20 total strangers each lending his effort to save Alex.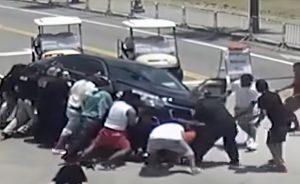 In what can only be described as a heroic effort, these good Samaritans literally lift the car off of Alex and drag him to safety. Alex took to Facebook afterward with a post thanking all who helped rescue him
WATCH the incredible story of this rescue below and tell us in the comments if you've ever seen a group act of heroism as nice as this.
COMMENT and SHARE if this story warmed your heart.