Here's a Christmas repost of a viewer favorite: a senior woman receiving a cat as a Christmas present. I like it because it evokes a lot of different emotions, mostly the joy of giving and the beauty of companionship. That's probably why it's been viewed over 32 million times!
The woman in this clip, who we only know as Mom, loves cats. She apparently always wanted a pet cat and when her family found out about, they did everything in their power to make this particular Christmas the one she would never forget.
In the video, the son gives Mom a Christmas large present, which she remarks, "Oh, it's heavy." She seemed very happy and excited to open the box. When she does, she is so surprised she jumps, but quickly recovers and is thrilled at what she finds inside: an adorable black cat!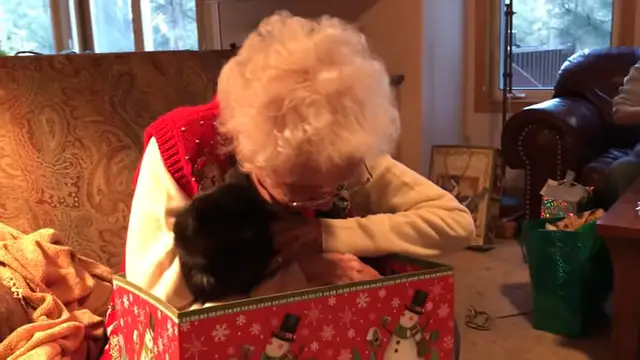 She immediately holds the cat in her arms and at first giggles, then cries with joy. "Holy darling!" she says, unable to even express her happiness. Everyone around her is just as happy to see her happy. And she goes on caressing the little animal in her arms.
This might be one of the most wholesome and heartwarming Christmas videos on the internet. It will definitely make you smile to your ears. Watch the video below and please leave us a Facebook comment to let us know what you thought!
Don't forget to hit the SHARE BUTTON to share this video on Facebook with your friends and family.