Domestic cats are not a common sight at zoos. So when employees and visitors at the Folsom City Zoo in California found a cat chilling out in one of the exhibits, they were pretty surprised. I mean, it' not every day you see a cat involved in something like this.
As a treat for the bears in the zoo, the caretakers at the zoo spread out dog food in the morning. But the tiny cat started showing up to enjoy the dog food meant for the bears. She was named Little Bear by the zookeepers. The little feline was not scared of the huge bears at all. She even made friends with one of them.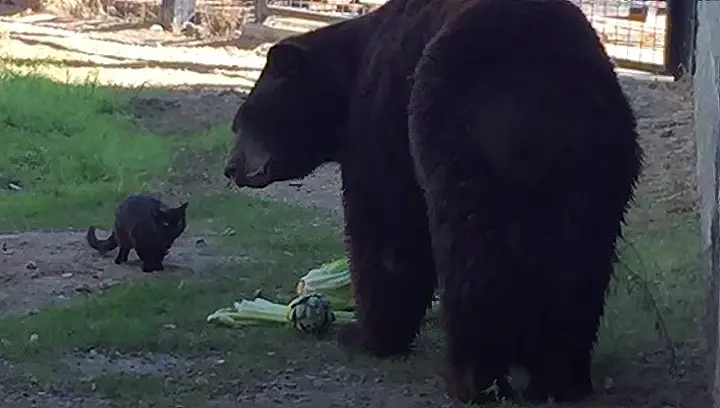 The big guy is named Sakoa. Most people get shocked by this weird couple, but Little Bear and Sakoa are happy in each other's company. Their bond proves that friendship has no limits.
After all, most of us would think a bear like Sakoa would be happy to eat a little animal the size of Little Bear. But this story proves otherwise. Watch the video below and please leave us a Facebook comment to let us know what you thought!
Don't forget to hit the SHARE BUTTON to share this video on Facebook with your friends and family.