This little guy is too smart for his age. Jake Boone is a wealth of information that he can impart to his loved ones. As a result, his family began to document his daily activities on camera. Whenever Jake feels like it, he's not afraid to share his thoughts or opinions with others.
One of the most endearing aspects of his voice is its heavy Kentucky drawl. It's hard not to picture him as an elderly southern gentleman, given his voice and manners. He manages to go grocery shopping with his family. And boy he is in charge of it all. The grocery list, the accounting, you name it.
Jake Boone is a native of Sunfish, Kentucky, a small town in the state of Kentucky. It's near the Grayson County line in Kentucky's Edmonson County, in the northwest corner.
In an interview, Jake's mother states: "He's like an old person in a little person's body. He says some of the funniest things. And he's really a sweet kid. He has a good heart."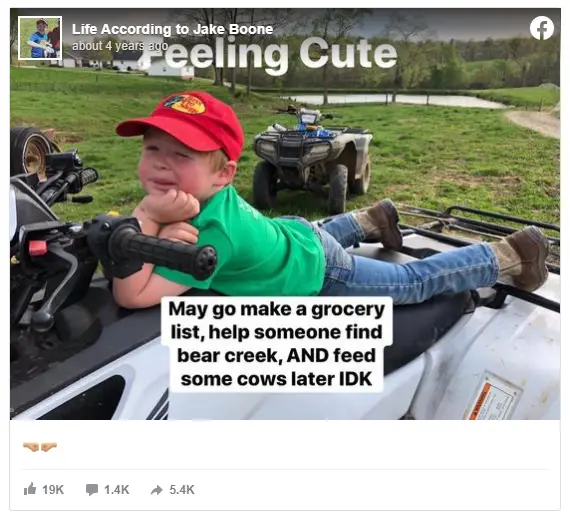 The little hero spends a lot of time at the farm with his grandparents, which is where his parents grew up. This is where the boy's knowledge of life came from. In most of his videos, his "grammy" is the woman who films them. She quizzes him on his experiences on the farm and learns a lot from him.
One day when they were having a little chat on record, Jake came to a sudden realization of his financial stature. Watch the little boy's innocent conversation here and please leave us a Facebook comment to let us know what you thought!
The video quickly went viral and Jake even got a $10,000 first-place prize in America's Funniest Home Videos. Talk about being poor now, Jake!
Don't forget to hit the SHARE BUTTON to share this video on Facebook with your friends and family.