You've seen your toddler take any random things around them and make their toys. It could be your hairdryer and comb they use for singing. It could be the couch cushions and pillows they collect for an imaginary castle. It's so much fun to see them enjoy little things.
But sometimes their imaginations can take a funny turn. For instance, this little boy caused a stir at this wedding with his playful behavior. As the bride began her walk down the aisle, the little boy couldn't control himself and jumped into his aunt's poofy wedding dress train.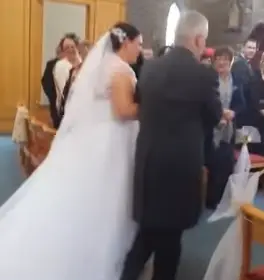 The entire attendee roared with laughter. This uplifting video clip has captured the attention of thousands on Facebook and YouTube.
You can watch the video in its entirety by following the link below.
Share this adorable video to your friends and family.