Jennifer Grey is an American actress known for her role as Baby in the classic 1987 film Dirty Dancing. She has had a long career in Hollywood, appearing in films such as Ferris Bueller's Day Off, Red Dawn, and It's Like You Know. Grey has also appeared in several television shows, such as The West Wing, Grey's Anatomy, and Red Oaks.
A lot of people wondered if Jennifer was really as good a dancer as was depicted in Dirty Dancing. Well this video proves the point, displaying her final dance in the 2010 season of Dancing With the Stars, the popular and long-running reality competition television show that first premiered in 2005.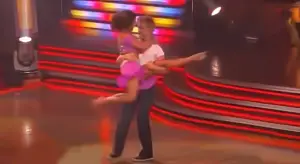 In this video, Jennifer and her partner, Derek Hough perform a series of 1960s-style dances to the 1962 classic "Do You Love Me" by the Contours. Their high-energy routine was an instant success with both the audience and judges and Jennifer leaves no doubt that she is in fact a great dancer.
This was the final dance for the couple and they went on to win the competition based on this dance. She has since gone on to become a judge on the show. Watch the full video below and please leave us a Facebook comment to let us know what you thought!
Don't forget to hit the SHARE BUTTON to share this video on Facebook with your friends and family.