Weddings are typically one of the most special days in the lives of people all around the world. Well of all those wedding stories, I'm thinking this is one of the best because it's about how the groom put someone else ahead of the bride–a risky move, to be sure, but it was definitely worth it here.
The bride and the groom at a wedding usually find themselves immersed in each other–or the wedding ceremony and reception, which actually take a lot of work. And things were going fine for this couple: they said their vows and did all the other wedding stuff. But when it came time for the pictures, this wedding took a drastic turn.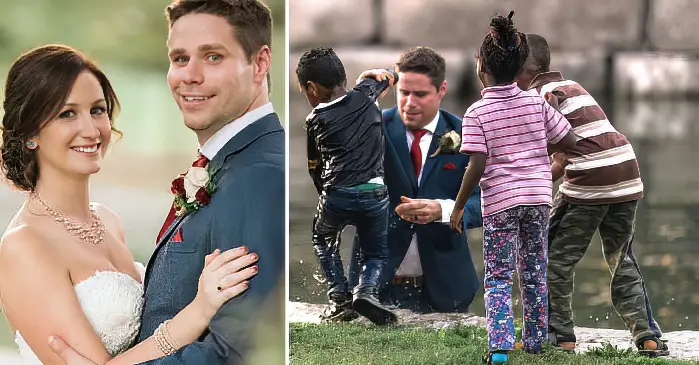 Clayton and Brittany Cook tied the knot in their hometown of Kitchener in Ontario, Canada. Along with their photographer, Darren Hatt of Hatt Photography, they headed over to Victoria Park to snap some wedding shots along the picturesque bridge. But when Brittany looked around, Clayton had suddenly disappeared.
What Clayton had noticed was there was a young boy in the water next to them, fighting for his life. So Clayton forgot about what he was wearing, he just jumped in to save the boy. Watch the video below and please leave us a Facebook comment to let us know what you thought!
Don't forget to hit the SHARE BUTTON to share this video on Facebook with your friends and family.