Weddings are probably the most beautiful events ever. Besides being a joyous occasion for friends and family, they are full of promise as the new couple starts their life together.
Weddings are also so fun, and here's one that doesn't disappoint. During the reception a group of girls from Hooley School of Irish Dance in Lancaster, Pennsylvania, perform to the delight of the crowd and it is truly fun to watch.
Irish dancing is a traditional form of dance, originating in Ireland and still popular today. It is a style of solo and group dancing that is rooted in traditional Irish culture. The most popular forms of Irish dancing are Ceili, Step and Riverdance. Irish dancing is characterized by intricate footwork, quick steps, and the occasional use of music.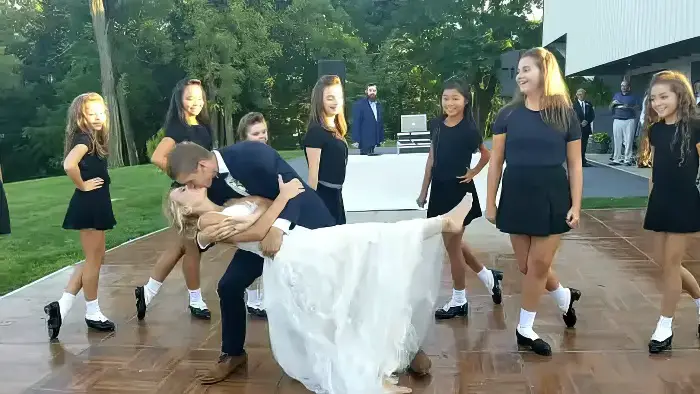 Irish dancing can be seen in performances at festivals, competitions, stage shows, parades, and in private homes–and as seen here, in weddings. Irish dancing is an important part of Irish culture, and it has been shared and passed down from generation to generation.
The young dancers from the Hooley School are great but when the beautiful bride steps in to show her Irish dance skills, she steals the show! And even better, after the dance her new husband ends the performance with a kiss.  This is an inspiring and heartwarming clip.
Watch the full video below and please leave us a Facebook comment to let us know what you thought!
Don't forget to hit the SHARE BUTTON to share this video on Facebook with your friends and family.