When people think of a granny, they usually picture a sweet old lady who loves knitting or feeding her grandkids. But the fact is that we should not make an assumption based on age or gender! Age is not a barrier to your hobbies and talents. And this grandma proved this when she visited a guitar booth in a music expo.
When Paula Jo Taylor visited the National Association of Music Merchants show in Nashville, Tennessee, she dropped into a guitar stall to check out some instruments. The sweet lady with short red hair and a pearl necklace looked like a mom visiting the shop to check out guitars for their children. But when Paula picked up an instrument, everyone's jaws dropped.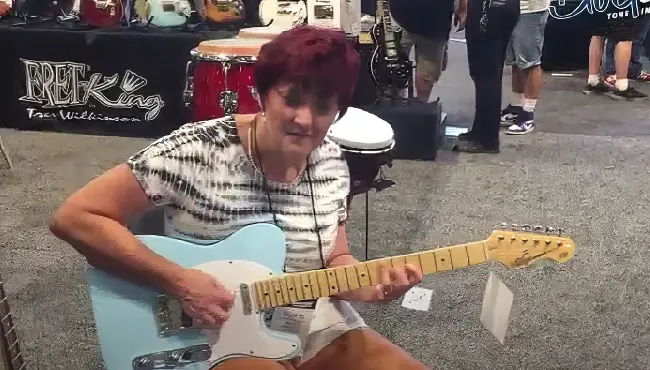 The grandma started ripping out a riff in the guitar that shocked everyone who saw the sight. Furthermore, her strumming skills seem impeccable! And it turns out she is a professional. She is the lead guitarist of the mother-daughter band, The Taylors Duo.
After she finishes rocking out the electric guitar, she looks up and says that it is "very nice." Very nice, indeed! Watch her incredible performance below – but keep going, there's another one:
The following year, Paula Jo did it again at the same show. Watch below:
Don't forget to hit the SHARE BUTTON to share this video on Facebook with your friends and family.