I enjoy being pleasantly surprised by something new. That is to say, when appearances deceive me in a delightful way, I am overjoyed and heartened that I can be proven wrong every now and then. If I saw this happen right in front of my eyes, I'm sure my jaw would drop and I'd stay to watch the entire show!
At first glance, a frail-looking grandmother appears to be out for a walk. This sweet woman in Paisley, Scotland, is taking her time as she cuts through a quiet neighborhood, wearing a long, baggy overcoat and pushing a walker loaded with groceries. The best way to raise some hell is to replace the peace and quiet with the music in the air, which comes from a band.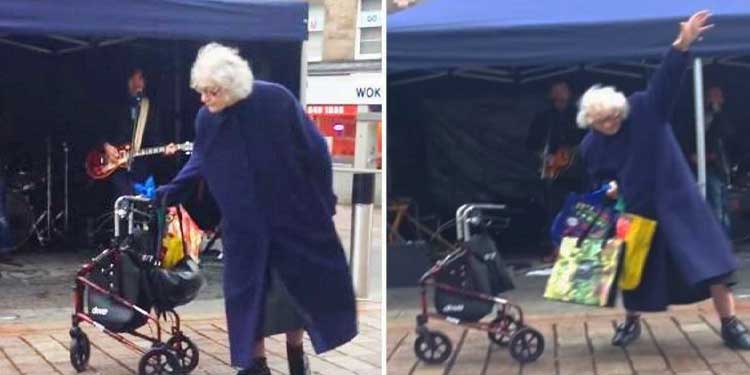 When AC/"Highway DC's To Hell" came on, the band Badboys was nearby jamming out. They had no idea that their most ardent supporter, who was well into her golden years, was about to bust out some serious moves! Grandma dances around like she's the lead singer of AC/DC, stopping everything she's doing. This lady has surpassed Bon Scott in terms of talent.
It's a shame she only appears at the very end of the song but she makes good use of the time she has left. Watch the full video here:
Please SHARE it with your friends and family.