It's always nice to have some father-daughter activities once in a while. It makes the relationship health as you get to bond with your family and children. You can either bring your family to vacations and go road tripping with them or even take your kids fishing and teach them the basics. Just like what this dad from Delavan, Illinois did.
Just recently, dad Steven, took his family and some relatives to relax and go fishing on a lake. His daughter Josie, was so eager to learn how to catch fish that they even bought her a little pole of her own. With the use of her Disney Frozen Shakespeare pole that was rigged up with a 50lb. Line by her dad, this little girl will surely reel in plenty of catch.
Steven showed little Jossie how to do it at first, and he eventually let her do it on her own after. As seen on the video, when Jossie was all geared up with floaters, just for safety precautions, they hooked the line up and placed the bait in—then she casts her line. But with a bit of difficulty in balance, her dad decided to help her out by holding the pole with her as she waits for the fish to take the bait.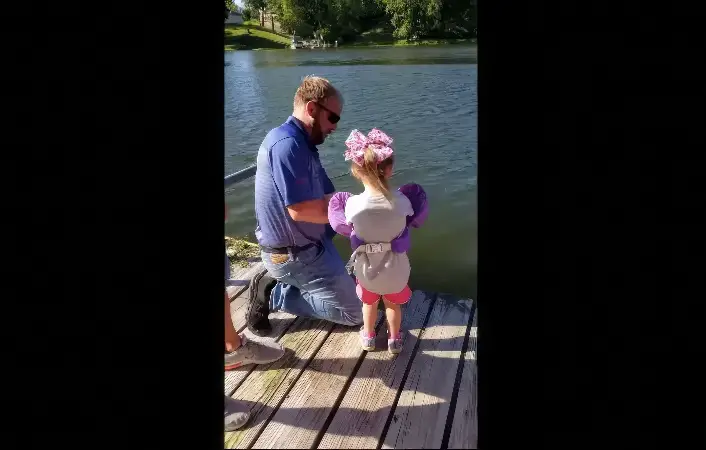 With only after a few minutes of waiting, they start to feel the fish tugging on the line. Steven helps Jossie to reel the fish in slowly, just taking it easy as the fish might get away. They reeled it for the second time, and Josie started to grip the pole with ease.
Apparently, this kid's a natural and you can see her actually enjoying the activity—excited to catch her very first fish. Gradually the pull it again and the fish starts to emerge from the water. Josie's uncle was beside them ready with a net so the fish doesn't escape. The little girl was starting to feel nervous but was also excited to see it.
When the fish was almost out of the water, they caught it with the net and everyone was surprised to see the catch! It was a giant fish that weighed more than 30 lb. Everyone was impressed with Josie's fishing skills and the little girl was extremely happy with her first catch. Watch the full video below and please leave us a Facebook comment to let us know what you thought!
Don't forget to hit the SHARE BUTTON to share this video on Facebook with your friends and family.