Kevin Hart is one of the funniest actors around today. Jimmy Fallon is a comedian and talk show host known for his pranks. Put them together and it's a wild ride.
Fallon's nightly talk show is full of jokes and hijinks. Hart is a frequent guest who Fallon never tires of making fun of. When Fallon's show was on location at Universal Studios he came up with the perfect way to rile Hart: challenge him to ride the Hollywood Rip Ride Rockit.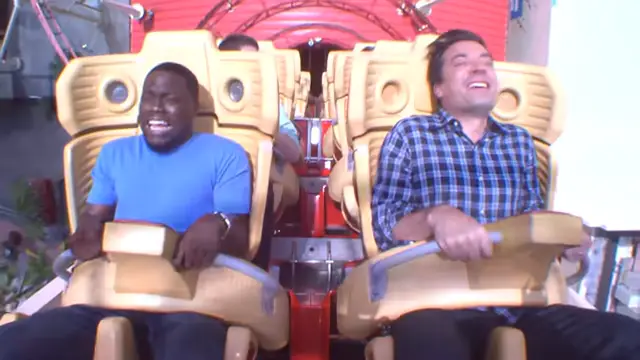 For those that don't know, Hart has a phobia of rollercoasters. And at the Orlando theme park, the Rip Ride Rockit is about the biggest, baddest rollercoaster of them all.  Making Hart ride the coaster would be gratifying for Fallon, terrifying for Hart and hilarious for us, the audience.
Watch the full video below!  Tell us in the comments whether you've ridden–or would ride–this monster rollercoaster!
Thanks as always for SHARING with your friends and family!