Jimmy Fallon is an American comedian, actor, and television host best known for hosting The Tonight Show Starring Jimmy Fallon, a late-night talk show on NBC. Born in Brooklyn, New York, Fallon first gained widespread recognition as a cast member on the sketch comedy show Saturday Night Live (SNL), where he showcased his talents for impressions, musical comedy, and engaging with celebrity guests.
In 2014, Fallon's career reached new heights when he succeeded Jay Leno as the host of The Tonight Show. Under Fallon's tenure, "The Tonight Show" has become renowned for its viral moments, with segments like "Lip Sync Battle," "Hashtags," and "Thank You Notes" gaining immense popularity online.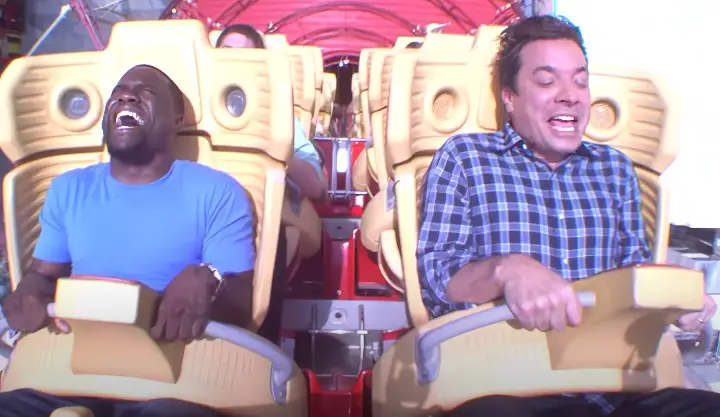 Another one of the things Jimmy is known for on the show is his pranks. And Kevin Hart is one of the funniest actors around today, so put them together and it's a wild ride. Hart is a frequent guest who Fallon never tires of making fun of. When Fallon's show was on location at Universal Studios he came up with the perfect way to rile Hart: challenge him to ride the Hollywood Rip Ride Rockit.
For those that don't know, Hart has a phobia of rollercoasters. And at the Orlando theme park, the Rip Ride Rockit is about the biggest, baddest rollercoaster of them all.  Making Hart ride the coaster would be gratifying for Fallon, terrifying for Hart and hilarious for us, the audience. Watch the video below and please leave us a Facebook comment to let us know what you thought, like whether you've ridden–-or would ride–-this monster rollercoaster!
Don't forget to hit the SHARE BUTTON to share this video on Facebook with your friends and family.