Apart from being one of the most loyal animals on Earth, elephants also manage strong bonds between their family members. Perhaps their capability to differentiate between friends and intruders, they are always a step ahead.
In many wildlife conservation areas, these majestic animals tend to form a special bond with their caretaker. Not only that, these huge mammals are ready to fight for their loved ones no questions asked. Similar is the case of friendship between Thongsri, a 17-year-old elephant and her caretaker.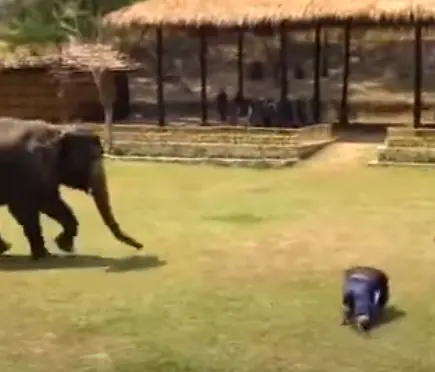 Initially, in the clip, a man walks towards the caretaker and gets into a small playful fight. Witnessing it from afar, the gain animal quicks runs to her friend's aid. Furthermore, she even kneels down to check if her companion is alright. Isn't that just lovely? The amount of care and respect Thongsri has for all the good work of the caretaker.
Please press play and enjoy this interesting turn of events.
Kindly share the clip with your loved ones.