Pakita, the dog, had been left at Arca Animal Refuge, Argentina by someone who had found her wandering the streets two years ago. The volunteers and the staff at the shelter were very warm and welcoming towards her. However, she was an unfortunate dog. Therefore, nobody adopted her and rather chose other happy dogs over her.
Since Pakita was always sad and lowered her head all the time, it was nearly impossible for the shelter members to take a good picture of her. But one day they were finally able to take some and post it on social media to see if anyone was interested in adopting her. Surprisingly, a woman responded by claiming the dog to be her son's who had been looking for her for a very long time.
The woman's son named Ariel Naveria had lost Pakita when she had escaped home two years ago and had almost given up hopes to see her again. He was actually very excited to see her again.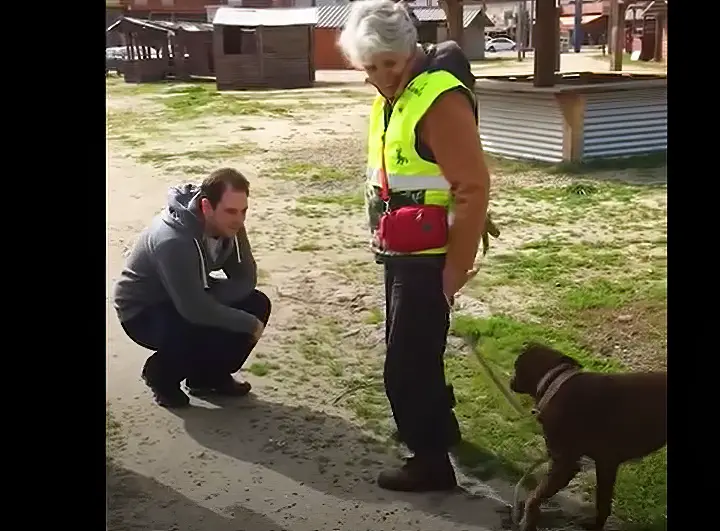 The next day, when Ariel arrived to see the dog, she was doubtful in the beginning and couldn't trust who was looking at her. But after catching the familiar scent of her owner, she suddenly got super excited.
It was as though all the emotions that she had been hiding came out at once! It was devastating for Ariel to lose the dog but the moment of seeing her again fixed everything. Pakita is now back to her home with her human and couldn't be more of herself! She is very, very happy.
Now it has been more than a year since Pakita got reunited with her owner. She is not depressed anymore. "We are super happy," said Ariel. Watch the full video below and please leave us a Facebook comment to let us know what you thought!
Don't forget to hit the SHARE BUTTON to share this video on Facebook with your friends and family.