Bald eagles are amazing creatures when it comes to protein recycling. Every day, they travel hundreds of miles in search of an open buffet. They concentrate on the intentional movements of other eagles and can quickly locate the location of their target eagle.
These eagles are not only scavenger hunters, but they also have a habit of bullying their weaker neighbors. Only after the upper bully has finished can the next bully eat the food.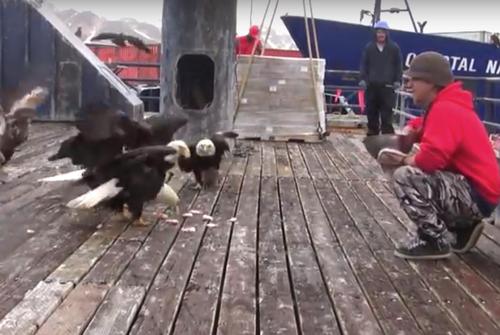 This video is a live demonstration of their waiting-in-line behaviors. Initially, a fisherman was feeding a bowl of shrimp to an eagle. But, sooner or later, an entire flock gathered to snare the shrimp. And just as we thought the entire flock had their turn, the camera pans to the left. And we see a swarm of hungry eagles waiting their turn.
Although the fisherman didn't have more to give, hope they return again tomorrow for their turn. Watch the full video here:
Please SHARE this video with your friends and family.
What do you think?