Animals do get a lot of attention when they come to a public event. There is barely any person who does not like animals, especially dogs.
Dogs are naturally happy and chill animals. We all love dogs because they literally make the lives of us humans much better. No matter how many times we try to keep dogs away from social events, we always end up melting when we see a dog in front of us. Dogs really don't deserve to be excluded from just any event. This video will make you smile to your ears.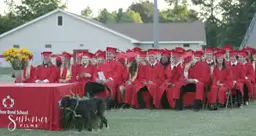 Charlie the dog was one of the guests at the graduation ceremony of  Horseshoe Bend High School graduation ceremony. But he did not stay in his seat like most of the guests did. Instead, Charlie thought it would be best to grab some attention and love from everyone present in the room. He went ahead and interrupted the valedictorian's speech.
Needless to say, we are not complaining at all. Watch the full video below!
Please SHARE with your friends and family!