There is nothing much adorable than a dog who wants to have fun. Whether its a fetch the ball or catch the tails, these furr-ball will go to any extremes to just enjoy their lives. You have seen all the general ways of a dog playing, but nobody has gone to this extreme to enjoy their lives.
This doggo, climbs up the ladder near a lake. While people might wonder where might be going, on the next side, you will see a a slippy slide. The awkwardly grips the slide and goes weee… You could see the horror in face once he starts sliding on the slippery slide. But when he land on the lake, he give the sweetest little smile.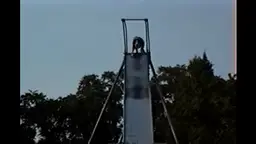 The dog is very adventurous and he is living a life. This is one of the cutest videos you will possibly find on the internet. He loves every moment of the fun he is having. I love how the dog has the enthusiasm most humans don't have.
Watch the full video below!
Please SHARE with your friends and family!