If you're a parent, you're certainly familiar with taking videos of the kids. These days, it seems like we film our kids do everything, from singing and dancing to sleeping or throwing a tantrum. And then, of course, it has to be uploaded to the internet so everyone else can see it too!
Well here's a dad that's fulfilling his photography duty, recording his little toddler dancing to the music provided by her toy guitar while the family beagle is looking out the glass door. But as the room's atmosphere gets musical, the beagle decides he needs to do more than just sit it out quietly.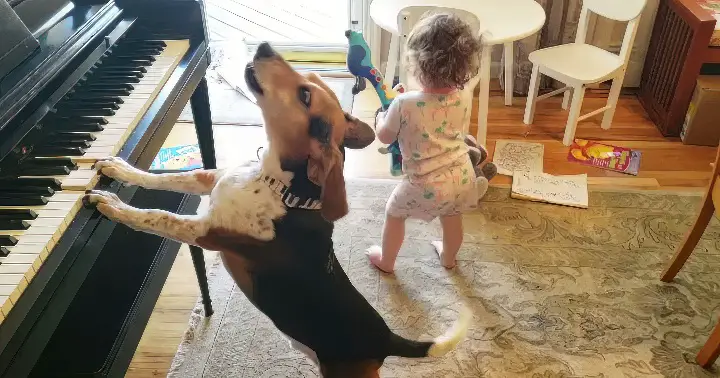 So the family pooch gets behind the piano and starts playing a few notes. He likes it so much he decides to sing–or howl–along with the sound.
Not to be outdone, the kid rocks even more and contributes her own music. The entertainment goes for a few more minutes. The dog, in the end, gets his treat for good work. The baby wants her share too.
Watch the funny video below and please leave us a Facebook comment to let us know what you thought!
Don't forget to hit the SHARE BUTTON to share this video on Facebook with your friends and family.