Here's a video I just had to post because it's fun to watch–doesn't everyone like seeing mini-dachshunds?–and I'm hoping it will brighten your day just a little.
This is another of those staged, just-for-the-internet videos and it's even sponsored by a dog bedding company (Molecule), which explains the quality. There's drone footage, multiple camera angles, close-ups, etc. It's definitely not filmed by a handheld phone!
The video actually comes from Crusoe the Dachshund's YouTube page: he's a celebrity with 1.8 million subscribers. So it's not necessarily hard to see who the odds-on favorite is at the beginning of the race…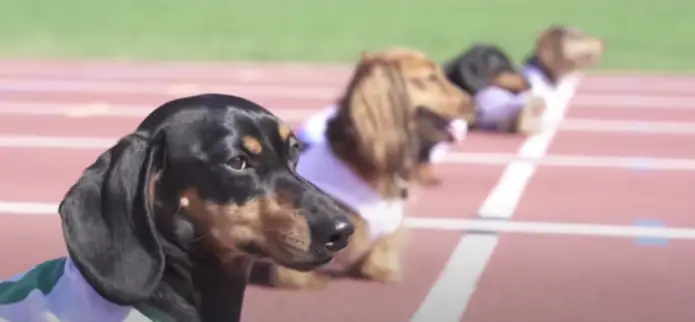 Anyway, these four adorable little pups–Crusoe, Rain, Titan and Jellybean–have a sprint on a real 100m track and it's a blast to watch, regardless of whether you call them dachshunds, wiener dogs, sausage dogs or whatever.
Have fun with this. Watch the full video below and please leave us a Facebook comment to let us know what you thought!
Please SHARE with your friends and family!