The Carol Burnett Show is widely considered one of the best American comedy shows in history and it gave rise to some iconic skits. We've done articles on Tim Conway's elephant story and the classic "Dentist" sketch. But her spoof of Gone With the Wind, which won the academy award for Best Picture in 1939, is right up there in the top five of her funniest shows ever.
According to Carol, they made the decision to do some sort of GWTW skit when their network announced they would be showing the movie in its entirety (four hours) all in one night. Up until that point, the networks had always run the show over two nights, stopping at the movie's intermission.
What they came up with was widely recognized as a comic masterpiece, starting with the name "Went with the Wind." The show aired in November 1976 and still resonates with as much hilarity as it did over 45 years ago.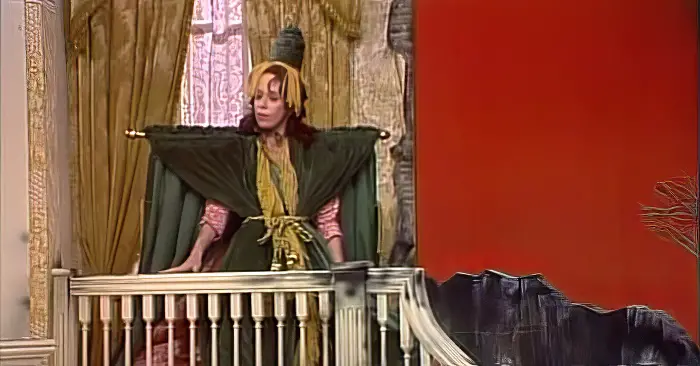 The entire skit was actually 20 minutes long, which was about normal for her shows. But it is best remembered for Burnett's take off of the movie scene where Scarlett makes a dress from the home's green velvet drapes in order to impress Rhett.
The show's writers and costume professionals take the skit over the top with her exaggerated gown, which she wears towards the very end. And since it was filmed before a live audience, we get as an added bonus that the audience burst out in laughter–no laugh track necessary.
Watch the video clip of this masterful scene below and please leave us a Facebook comment to let us know what you thought! But also continue down the page for Carol's commentary on the making of this iconic show.
Continue on below for a bonus:
Carol Burnett talks on camera about the classic sketch, how it came about, how difficult it was to shoot and how brilliant she thought the writing was. Watch this extra below:
Don't forget to hit the SHARE BUTTON to share this video on Facebook with your friends and family.