It's no secret that humans feel a strong connection to dogs, our canine friends. We cry when dogs die in movies, get offended when someone ill-treats a dog. We consider them to be members of the family and literally do not want them hurt. But do dogs feel the same way about humans? It is hard to say yes or no. But some dogs have actually proven to their owners their loyalty and this can be likened to the feelings they have for the man. Eva, a dog showed this by joining a couple for their first dance.
Seth Funded and his bride Nicole tied the knot at a wedding ceremony in Washington state this month before witnesses –friends, family, and dog Eva, a very important part of the family. Eva witness and celebrated this big day with her owner, the couple in a grand style. She did more than just bear witness to their nuptials, she showed up on the dance floor and took part in the most emotional aspect of the wedding – the couple first dance.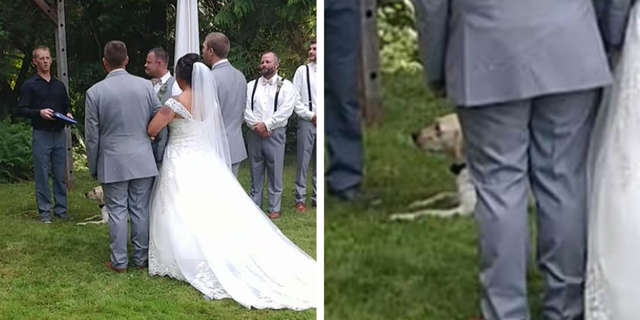 No one expected the dog to show her loyalty and sense of belonging that much. The dog who had watched quietly from a corner suddenly stood up and decided to join the newly wedded as they performed their first dance. She didn't want to be left behind. She wanted to prove to the guests that she is a part of the family.
She injected fun into an already beautiful day. The video is sure to put a smile on your face.
Tell dog loving friends to keep treating dogs as part of the family, SHARE it to the world!