Father-daughter wedding dances are often fun, especially if there's a twist involved. Well this one not only has a twist, it has a big surprise for Mom, who clearly wasn't informed of what to expect.
This video starts out fun. The bride-to-be, Beatrice, shows us all the times when they were practicing the choreography for their dance but they had lied to everyone about what they were doing, like playing tennis.
Then we get to the actual wedding, which shows Beatrice and Dad doing a nice waltz to a slow song. Then we hear a record-scratch and the next thing we know, it's the iconic guitar chord start of "Jailhouse Rock." And that's where the fun starts.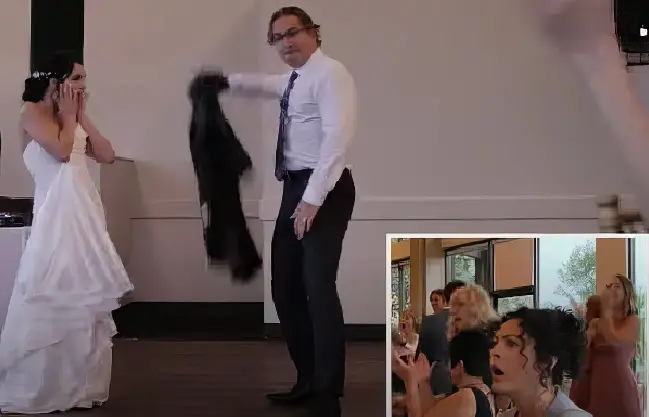 Dad strips off his jacket while Beatrice pretends to be surprised, then they start a well choreographed duet. The photographer, who was in on the prank, superimposes Mom's face on the video and you can tell Mom is clearly shocked!
The fun continues as the pair proceed through two of the biggest songs of all times, Saturday Night Fever's "Staying Alive" by the Bee Gees and Michael Jackson's "Thriller." And it continues through too many songs to list–you'll just have to watch to see all the fun!
Watch the full video below and tell us in the Facebook comments what you think of this sneaky pair–and of course Mom's reaction!
Please SHARE with your friends and family!