Brandon Turnbow from Burleson, Texas, was out riding his bike on Highway 171 when he saw a man beating an innocent dog on the side of the road. Brandon was left stunned when he watched what was happening through his rearview mirror. The guy threw the dog on the curb and drove off.
The poor pooch was left out there for dead. According to what he wrote on Facebook, Brandon first "went after the guy just to give him a number one sign." Brandon then turned his bike around and decided to rescue the abused pup. The biker took the white puppy with him, saving him and giving him a second chance at life.
He wrote about the meeting, "And I now have a co-pilot—Meet Mr. Davidson." With the dog secured on the back of the bike, Brandon took off. "Well looks like my co-pilot has found peace," Brandon wrote on Facebook. "His belly is full and he found the pillow."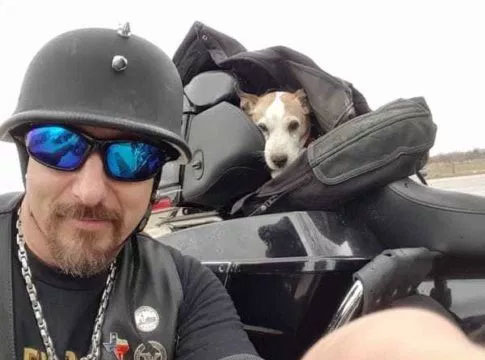 Mr. Davidson touched Brandon so much that he started a non-profit organization called BAAANG – Bikers Against Animal Abuse National Global. He sends this message to all bikers, "Let's all join together to make this happen on an epic scale. I know there are a lot of bikers out there that love animals, so how would you like it if we sent bikers to collect abused animals near you?"
Brandon also likes to sing and write songs. In fact, rescuing Mr. Davidson inspired him to write a song about his new best friend. Listen to it below and share your thoughts in the comments!
Please SHARE this amazing video with your friends and families!