When we hear the name Bocelli, we all think of legendary Italian tenor Andrea Bocelli. He's in this Bocelli performance but not as the principal singer. Which makes it all the more special.
Virginia Bocelli is the 10-year-old daughter of Andrea and his second wife, Veronica Berti. She's also a singer and, in this clip, she shows us her career may be headed to the heights, just like her dad.
Virginia performs the classic, "Over the Rainbow," originally sung by Judy Garland in 1939's  best-picture-nominee movie The Wizard of Oz. She's introduced by her famous father and there's even a little playful banter, with Dad telling the audience she speaks better English than he does.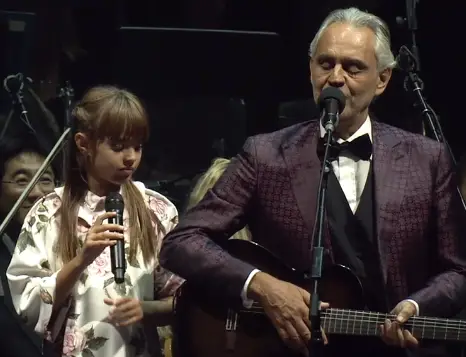 The young Bocelli has a beautiful voice and innocent style that completely captivates the audience. There's a lot to like here, including the proud Papa's introduction of his talented daughter.
This is heartwarming. Watch the full video below!
Please SHARE with your friends and family!